Episode 14 – Someone got a smoking deal…

August 2014
Podcast: Play in new window | Download (Duration: 4:44:30 — 260.5MB)
Subscribe: Apple Podcasts | Google Podcasts | Spotify | Amazon Music | iHeartRadio | Stitcher | Blubrry | Podchaser | Podcast Index | Deezer | RSS
Brent and I return to the studio after several "shows on the road" as we settle back in front of the microphone and catch up on happenings since our last studio episode…which by my count is actually three episodes back… man… time does fly.
We recount the happenings from a few of our Cincinnati road trips as well as our closing thoughts on the 2014 edition of the Southern-Fried Gameroom Expo.  We also catch up on our latest acquisitions – which actually turned out to be far more than I think either of us expected –  and we read through a good amount of listener e-mail and feedback, as well as talk about some of the latest news and discuss some reproduction parts.  Keep the feedback coming as we really appreciate it and it helps the show tremendously!
As we gear up for our big 1-year anniversary show, we have our first contest in this episode! Make sure to listen towards the end of the episode for the rules.  One thing of note is that when we originally recorded the show, we put a contest-close date a few weeks out from that recording time, but life gets in the way sometimes and we were delayed in getting this episode out, so we've revised the contest deadline to now be midnight, August 31st!
Be sure to submit your entry via our voice-mail line at 470-2CALLBT (470-222-5528)!
Want to see what's up for grabs?  Thanks to Paul Kiefert and the crew at Circus Maximus Games, we have this fantastic "Pinball Zone" metal caution sign designed by the late Python Anghelo and donated to the show for this contest!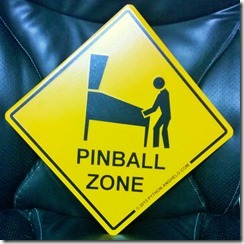 Brent and I will pick a winner from the contest entries and announce such on Episode #15 or #16, depending on how the timing works out.  Keep tabs on our Facebook page and Twitter for any updates!
Thanks for listening and GAME ON!