Pinball Expo 2014 – Live Broadcasting Schedule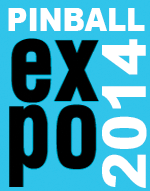 Can't make it to Pinball Expo?
Want to get get some inside info and a taste of the action?
The Brokentoken podcast crew will be streaming live coverage from the floor of Pinball Expo!
Join Whitney and Brent (and anyone else we can get on mic) to bring you news of the day, commentary, and reactions from the show.
There's going to be quite the selection of industry leaders, designers and manufacturers in attendance, so it's hard to know who will show up!
Here's the schedule:
Friday 10/17 8:30 PM Central, 9:30 PM Eastern.
Saturday 10/18 5:30 PM Central, 6:30 PM Eastern.
To join the live shows, tune to the Brokentoken MixLR page – http://mixlr.com/brokentoken
We'll also be recording the Saturday morning podcaster's panel discussion and will be releasing that shortly after the show!
The full expo schedule is available here – http://pinballexpo.net/seminar.pdf
Make sure to check us out on Twitter and our Facebook page for any last-minute announcements:
https://www.facebook.com/brokentoken
https://twitter.com/brokentoken
Thanks for listening and GAME ON!