'Project Chicago' – it almost didn't happen….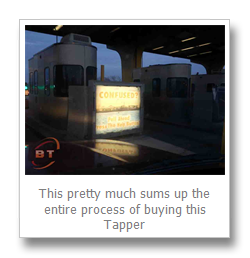 Much of the story for this post comes from something that everyone in the collecting/playing/restoration community will likely experience from time-to-time:  a greedy seller.  At the time, I didn't realize that it would have such a great ending, though.  I was prepared for the worst and wound up getting the best.
The back story on this starts where many an arcade acquisition begins…. Craigslist.
I had been looking for a Bally/Midway Tapper for some time, and had a few missed opportunities happen over the prior months that I either couldn't make pan out or the game was already sold by the time I could get to it.   Lo-and-behold, one (and a nice one at that) pops up in Chicago about a month or so ago and I contact the seller.  He returned my call pretty quickly and after the obligatory exchanges and picture e-mails back and forth we started to talk money and logistics.
The history on the game was that the seller's father had owned a bar in Chicago and bought this Tapper directly from Bally.   Once delivered, the Tapper remained on location for its entire earning life in that same bar before it was moved to the sellers fathers residence.  The Tapper stayed at that location for several years before the seller moved it on to his apartment.
Once I had received all of the requested pictures and had looked everything over as best as possible, I could tell that this Tapper was a definite possibility.  The game was in amazingly good shape (for living in a bar for so long): the artwork wasn't faded, all of the internals were all-original (including the MCR power supply) and the glass marquee and bezel were in excellent shape.   Seeing as how everything worked, I felt this was worth making an offer on.
After a bit of negotiation, we came to a fair price for both of us, and called it a deal.  At this point, I was stoked – I had just scored a very nice, all original Tapper in the money.  This was my day, and my day was good!
Or so I thought.
Easy Come, Easy Go…
About two days after sealing the deal and going with a verbal commitment, the seller calls me back and says that he had been getting a lot of other offers that were far higher than our agreed-upon price, and that he had to cancel our sale…. unless I was willing to bid – reverse auction style – on re-buying the game from him.  At that point I stood down and told the seller to sell it to whomever he thought he could get the most money from and to call me back when he was ready to sell it again at our agreed-upon price.
So with that note, I pretty much kissed my Tapper goodbye.  I was upset at the seller for backing out of the deal after we had agreed upon everything, and I let him know such.  Things were quiet for a couple of weeks, and I can only assume that he shopped the Tapper around to the droves of higher bidders that he had during that time.  Needless to say, I was pretty shocked to receive a text message saying that if I still wanted the Tapper it was mine to have.
This was going to be fun.
I waited a bit to call the seller back, as I was trying to decide whether I really wanted to do business with this person.  Ultimately, my desire for a Tapper won out and I decided to see if I could swing a better deal than I had originally… hey… I had nothing to lose.

One phone call and a pretty civil conversation later, and I re-bought the Tapper at a lower price than I had originally negotiated!  So, it was then time to replay out the entire scenario again and see if I was actually going to be able to take possession of it this time around.  We proceeded to negotiate a tentative pickup date that worked for the both of us.
I then enlisted the help of fellow local-collector Jason Bradley to see if he would be up for a day-trip to Chicago to pick this baby up.  Fortunately Jason was good for the trip, so all that was left to do was sort out the details and then make it happen.
Tapper or Bust…
Fast-forward a couple of weeks, and it was finally time to drive up to Chicago to pick the cabinet up.  Fortunately the seller had been pretty decent to deal with and was accommodating of our schedule requirements.  It took a bit to get everything coordinated, but once it was finalized, we were on.
Jason and I headed out of Louisville early on a Saturday and made it up to Chicago in good time.  We were lucky in that outside of a bit of rain around the Seymour IN area, the trip was mostly uneventful.  We made it through Indy and on into Chicago pretty easily and located the pickup address easily enough.
Once we met the seller and all the pleasantries were out of the way, we proceeded to test out the game and make sure all this effort was actually worth it.  The game inspection was good, and outside of one of the Tapper handles being pretty sloppy and an aftermarket marquee light being hacked into the cabinet, everything else was A-OK.  It does need a fresh CPO, Bud 'ribbon' stickers for the tap handles and the standard once-over with some Simple Green to clean it all up.  Outside of all that, she was solid.
The one thing that I wasn't prepared for, was maneuvering such a big game through such a small apartment, and up a flight of stairs.  The details of that were glossed over in our conversations, and I knew right away that I had just learned yet another lesson in the fine art of arcade collecting: take NOTHING for granted and ask EVERYTHING.
Live and learn (again).  Oh yeah – one other thing – ALWAYS bring a dolly.
We almost broke it…
Jason and I were then presented with a big problem – how to move this huge (and heavy) Tapper out of the apartment without tearing everything to shreds in the process.  We measured all the dimensions on the cabinet and then of the doorways and room passageways and determined that the only feasible way out of the place was through the kitchen and up a flight of stairs to the ground level.  Yep – that's right – drag it up to level.  Awesome.  My back is still mad at me.
After a few failed attempts of playing the "it almost fit" game, we wound up having to dismantle the control panel and the brass bar rails in order to get the game to fit through the hallway and doorway without issue.  I asked the seller how he got the game into the house and was given a "I don't remember'" type of response.  Unfortunately the seller was of little help on this deal and I think he was far more interested in playing XBox 360 (which is what he did almost the entire time we were there) than helping us, so it was probably best that we let him be and get the game and leave.
After wrestling the cabinet up the stairs and out into the alleyway beside the apartment building, we stopped for a minute and I surveyed the game out in the daylight.  Thankfully it looked good.
I then proceeded to stretch-wrap it (I guess I was in a hurry…) when Jason reminded me to get a few pictures.  Here's the best of the group that shows you where I stopped to take the picture.  You can also see the short-state of disassembly it took to get the Tapper out and up to street-level.  The overall condition of the game made the trip worthwhile, and once all the parts are re-installed, it's 100% solid.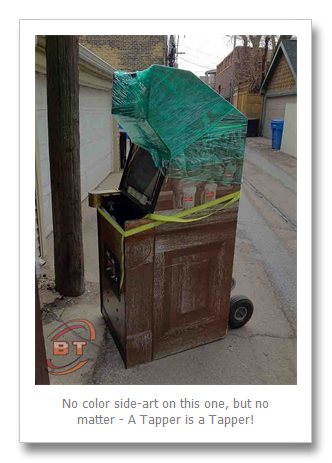 What Time Is It?…. Why, It's Logan Time!
With the game loaded up and everything taken care of with the seller, it was time to plan out the rest of the day.  Based on a bit of prior research we knew that our pick-up location was reasonably close to Logan Hardware.  Close enough, in fact, that it would be a shame not to go visit Jim Zespy and play some games before heading home.
If you aren't familiar with Logan's Hardware, here's a quick recap on why the place is significant to the retro community:
Logan's is a classic vinyl record store that is thriving in an era of digital downloads.  I am happy to see a brick-and-mortar store hang with the big guns of the industry and thrive despite technology and sheer size putting pressure on smaller businesses.
Owner Jim Zespy (who is a great guy, btw) runs a classic arcade in the back of the store where all the games are always set on free-play.  All Jim asks is that if you enjoy the arcade, just make a small contribution at the door to help shore up maintenance funds for the pins and the arcade games…. (hint: no matter how many games you see in the pictures below, it's just a fraction of what Jim has available to put on the floor).
Logan Hardware is also hosting the 2012 Classic Arcade Gaming (dot com) – CAGDC – classic arcade tournament at the end of March, 2012.  If you are interested in finding out more about the tournament, visit the tourney page – http://www.classicarcadegaming.com/contests/CAGDCT2012/
Jim Zespy sponsored the very popular "DK 101" class that was held in January, 2011 at Logan's.  I wasn't able to attend that, and regret missing it to this day…. maybe it will make a return run sometime in the future.
Below are a few pictures that I snapped while at Logan's.  As you can probably tell from looking at the game selection, Jim has a knack for picking some of the best titles from the 'Golden Age' of arcade gaming.  Jason and I were both very impressed with what all we saw, and we stayed for a couple of hours playing most everything you see in the pictures below.
[nggallery id=29 template=caption cols=2]
After moving through the game line-up, one thing that almost immediately stood out to me was just how clean all of the games were and that they all worked – perfectly.  Come to think of it, the entire place was really clean … I loved it.  It was in stark contrast to other arcades I've visited and it was absolutely refreshing to see both the venue and the games looking so nice.  Attention to detail at that level truly does make a difference on how enjoyable the games are.
We met up with Jim Zespy part-way through our visit and he took us 'backstage' to show us all of the games he was working on.  Since this was Jim's personal work area, I didn't feel right snapping impromptu pictures without some prior consent.  Suffice it to say, he's got a tremendous inventory of games that should keep the arcade room rotation fresh for quite some time.
Grub and Go…
The good thing about someplace like Logan's is that it becomes very easy to lose track of time – and that's exactly what happened to us while visiting.  I think I was playing a game of Mario Bros. when I looked down at my watch and realized that it would easily be midnight before we returned home at this point.  We finished up and rounded everything together and said our goodbyes to Jim, made our contributions to the arcade preservation fund and then proceeded to get something to eat before the long ride home.  Jason has much more "Chicago Ninja Skills" than I do at this point, so we went on his recommendation for places to eat.  I mean, seriously – it would be a crime to drive all the way to Chicago and not eat some authentic Chicago fare, right?  Right!  No Subway For You!
We drove downtown (hauling the Tapper in the back of my truck – I'm sure it was a sight) and Jason directed us to a local Portillo's.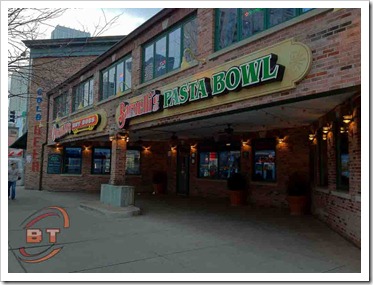 I will have to say this – the food rocked.  Between the Hot Italian Beef sandwiches, the Onion Rings and the Fat Tires to wash them down, we were set.  It was flat-out awesome, and well-worth a return visit.
After finishing off the food and walking around downtown for a bit, it was time to head home.  All I can say is when leaving Chicago in the dark pay VERY close attention to the Interstate signs… just sayin'.
Wrapping it all together
All-in-all, it was a fantastic trip.  I was less-than-enthusiastic about dealing with the seller and was not entirely sure that we were actually going to have a Tapper to pick up when we got there, but everything worked out for the best and we got to wrap a lot of arcade action into a single day – even after being on the road for 12+ hours!
I've now got the Tapper home safe-and-sound.  It needs to be cleaned, but outside of the items mentioned at the beginning of the article, it's good-to-go.  I'll (eventually) get a restoration log post on it once I get ready to put some time towards getting those issues resolved.
Tapper is a great game and I'm super-pleased its in the collection now.  I hope it serves up the fun for years to come.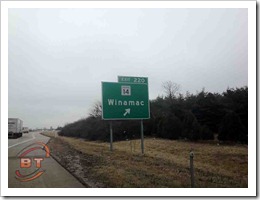 The only bad thing was that even though Jason and I passed through Winamac twice, we never did.  Bummer…. a second Macbook would have been really nice.