A lot can happen in a year!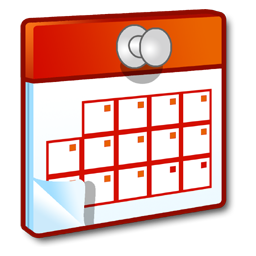 Wow…. In looking back at the last time I've written a post, I'm a little ashamed to see that almost a year has gone by.  I'm certain that many might have though the blog forgotten, but trust me in that nothing could be further from the truth.  I've had a lot going on between my last post and this post – much personal, much arcade and a fair amount that lands somewhere in between…
The heart beats…
One thing that is for certain is that BrokenToken.com is alive and well.  I've had many, many situations where I've wanted to write a post about current news, reproduction finds, or movement within my own collection and my ongoing game room build out, but always deferred due to numerous other priorities.
Fortunately though, I'm getting more of a handle on things, and the future is looking a lot better in regards to content and post generation.
The main question that I've gotten is "what's been going on?".  To make a series of really long stories short and sweet, it boils down to this:
New job – There's always a 'time penalty' to be paid when switching jobs… especially going from a well-established position to a new position in an entirely new & different organization.  It was somewhat like starting over and months would vanish without nary a thought otherwise while getting settled in and making sure I was taking care of business where business needed to be taken care of.
Some surprise, but very awesome and always worthwhile, title acquisitions that have popped up.  I'll have many a nice article waiting to be written about what I've been able to score,  but let's just say that some titles like Food Fight, Star Wars, Q*bert, ZooKeeper (in pieces, but it's all there) and Star Castle have all found their way home.  The big thing now is getting some time to devote to each one and produce some content about them.
Pinball acquisitions – I admit it: the Pinball bug is very real, very consuming and very expensive.  Wrap all three of those together and you can probably guess where I'm going with this… I was able to score my first pinball machine (Stern AC/DC Pro) and am now working on the second (Tron) – needless to say the resources necessary to pull those acquisitions off has been considerable.
Game repairs – this is a biggie, and one that I'm just now getting into.  Learning how to fix arcade games (and pinball) is a discipline in and of itself – especially when you have no formalized electronics training.  That being said, it's been a lot of fun working on games now that the gameroom is ready to accept them.   I'm an 'order of operations' kind of guy, and knowing that I can line up, display and play what I fix is a huge motivating factor for me.  It's also an impetus to clean up the games as well and do 'mini-restorations' on them to make them 'gameroom' worthy.
Game Room Build out
This is the one that I've struggled with the most.  I have spent a lot of hours getting the cosmetics, power and "flow" of my game room situated.  I'm just about done, and have included a couple of current 'teaser' pictures so that everyone can see what I'm up to.  I'm wanting to post up a series of 'as it was being done' articles so that I can document the build-out for others to see.  I've still got a bit more to do, but I'm rounding the corner on this.  And yes, there is a red Donkey Kong to go in the Nintendo row and some pretty massive 'clean-up' of the DK jr. and the Donkey Kong 3 in the near future.    Needless to say a *KILLER* Nintendo row is my goal…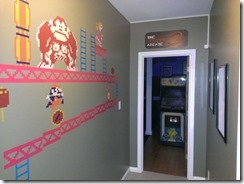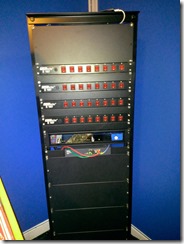 I have a whole post in draft dedicated to the build-out on this hand-crafted beast.  The good thing is that it allows me to control the power of each game individually, as well as control lighting and the game room sound system.  I do need some magnetic game marquee signs to help me keep track of which game is on which switch, but it works and works well as it is.  Besides, it looks cool in the dark!
So, what next?
Yep – that's a fair question.  My short-term plan is to work through this year's Louisville Arcade Expo and provide some great coverage for that event.  Next up will be this year's CAGDC tournament and then re-organize my content and decide what to talk about first and then put myself back into a regimented posting schedule.  That should get me back on track in that regard.
There's also a collaborative project that I'm working on with another local collector, but it's way too soon to talk about that more so than saying something is in the works….  Just know that reaching out to people in a new way and hopefully growing the brand as a by-product will come together in a sustainable way.  My goal is to be able to talk more about that in the coming months, as well.
Between the posts….
One thing that I've found really useful to supplement the blog is the Brokentoken.com Facebook page page.  I've been using it as a 'microblogging' platform and have found it convenient for posting the 'in between' types of content that I want to share with the arcade and pinball community, but still make sure that I can get back to at a later date and expound on, if warranted.  The Facebook page content is usually more time-sensitive in nature, so it's always a good option for quickly getting some info out.
With that, I'll go ahead and wrap this up.  I appreciate the notes of interest and concern.  All is good and getting back on track.  In the meantime, please consider becoming a fan of the Facebook page and that way you can stay up-to-date on happenings between my formal posts.  Also considering following Brokentoken on Twitter as well, and catch more between-the-posts action.
Take care!