Episode 05 – Who's BUGging us now?

January 2014
Podcast: Play in new window | Download (Duration: 6:07:14 — 336.3MB)
Subscribe: Apple Podcasts | Google Podcasts | Spotify | Amazon Music | iHeartRadio | Stitcher | Blubrry | Podchaser | Podcast Index | Deezer | RSS
Episode #05 is epic, and I don't know any other way to put it! Brent and I strap ourselves to the chairs in the recording studio and pretty much let it roll – show notes be damned!
We cover a lot of ground in this episode and there's plenty of arcade and pinball content this month to please even the most discerning of collectors.  Brent and I cover what we've been up to over the Christmas Holiday and New Years, talk through some current restoration project progress, visit an EPIC pinball game room with private collector Larry Pavey, talk through the latest available arcade reproduction parts, battle Brent being sick, perform an impromptu Battle Zone joystick grommet test and we even have our first ever 'cross-podcast cameo' with Charlie and Bug from the Spooky Pinball podcast!
There's a lot more that I've left out, but you'll have to listen to get it all!  Speaking of that, be sure to swap out your Walkman batteries for a fresh set of Ray-O-Vacs , because this episode weighs in a little over 6 hours (Yep – SIX HOURS…. Brent and I were on a roll).  How's that for value, eh?  Just leave a quarter on the toilet and don't forget to wash your hands on the way out!
We had a pretty large 'outtake' selection for this month, so be sure to listen to the Spooky cameo and the end of the show – it's worth it!
Here's how the episode breaks down:
Show Segment Layout
Intro Discussion & Show Agenda
(13:50) – Updates & what we've been working on
(132:35 – 2 hours, 12 minutes) DeepDive
(217:35 – 3 hours, 37 minutes) – Restoration Corner
(233:30 – 3 hours, 53 minutes) – Interview with Larry Pavey
(346:50 – 5 hours, 46 minutes) – Closing comments & Announcements
Show Segment Details
Updates & What we've been working on
Brent

Battlezone – times two (x2) – project updates
Beginning restoration on a Roller Disco

Whitney

Discuss "Project FlipFlop"

Donkey Kong Jr. – now finished and in the game room
Discuss the monitor challenges with the tubes and convergence settings
Rejuvenators
Braze high score kit installation issues
DK3 current status

Pinball armor powder coating for Tron arrived
Backup PCB project
DeepDive
Brent

PCB Finger Repair – Online Album located here

Whitney

Part 2 Discussion on High Score Save kits
Part 1 Discussion was in Episode 04
Restoration Corner
Discuss new Arcade reproduction projects that debuted this month.  KLOV has some amazing vendors reproducing parts that are essentially unobtainable anywhere else.  Please consider supporting these vendors so that we can continue to get replacement parts for our machines!
New projects

Past projects discussed on previous episodes
Interview with Larry Pavey
Where do we start?  This collection was amazing.  Brent and I were fortunate enough to be introduced to Larry through a mutual friend of the show and Larry was kind enough to have us over to view his private collection.
Take a look at the pictures below and listen to the interview – it was pretty amazing to see so many A-list titles (in such good condition) in one place.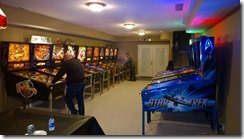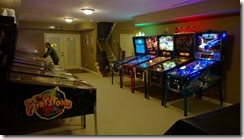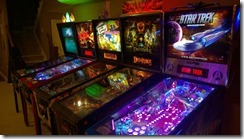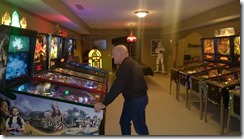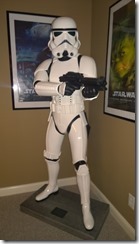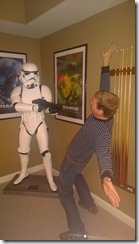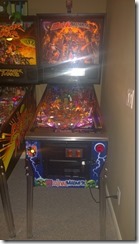 Here's a walk-thru video where we feature the entire collection!
Closing Comments & Announcements
We wrap the show this month with a special cameo appearance by Charlie and Bug from the Spooky Pinball podcast.  It's great fun and we think you'll get a good chuckle out of it as well.  Bug must be a big fan of the show, because he nailed me pretty good!
Upcoming Shows & Events
Louisville Arcade Expo

Check out our interview with Matt & Jeremy Fleitz in Episode 04!
March 7-9 2014 @ the Ramada Plaza Louisville, KY
Brent and I will have a table at the show – come by and see us!
CAGDC Classic Arcade Tournament @ Logan Hardware in Chicago, IL

Friday 3/28/2014 – Sunday 3/30/2014

Texas Pinball Festival

March 28th-30th 2014 @ the Embassy Suites Dallas – Frisco Hotel and Convention Center in Frisco, TX.

Southern-Fried Gameroom Expo

June 20th – June 22nd, 2014 @ Atlanta Marriott Century Center
As always, we really appreciate everyone listening to the show! If you have any questions, feel free to email the show at 'brokentoken@outlook.com' or leave us a voice-mail at 502-517-7199!
If you enjoy what you hear, then please consider leaving us a rating on our iTunes page – https://itunes.apple.com/us/podcast/brokentoken-classic-arcade/id706679888 and our Stitcher Radio page – http://www.stitcher.com/podcast/brokentoken-classic-arcade-pinball-podcast.
Ratings help us to promote the show and get it front of more people, so we thank you for any help you can provide!
We wish you all a Happy New Year and thank you for helping us to make 2013 a great start to the show.  We look very forward to what 2014 has in store for the podcast and hope you will be along for the ride!
GAME ON!