Louisville Arcade Expo 2012 – Here's all you need to know…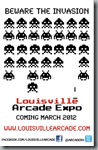 The 2012 edition of the Louisville Arcade Expo is heading back to town for the weekend of March 2-4, 2012, and it promises to be bigger and better than last year.  If you happened to attend last year's inaugural event then the format will be much the same of what we classic/retro gamers love – rooms packed with rows and rows of classic arcade games, pinballs and console gaming action all set on free-play and ready for hours and hours of fun.
If you need a quick refresher on the 2011 show, check out my recap – https://brokentoken.com/events/recap-louisville-arcade-expo-2011/.
What will make this years event different is not so much changing up any of the core events, but instead the focus is on improving the venue, game selection, expanding the floor space and generally making everything "better" where possible.
Follow the break to find out all the new goodness that will be this year's expo…
Improvements Everywhere
Here's a quick run-down on the major improvements you'll see:
Over 22,000 sq. feet of exhibitor/gaming area (as compared to 6,000 sq. feet last year).
New venue – This years show will be held at the Ramada Inn right off Hurstbourne Parkway.  The Ramada is providing the expanded floor space and several other on-location amenities:

Wick's Pizza – the plan is to have a Wicks Pizza parlor in the expo area!
Promotional room rates for the weekend – take advantage of a special $69.95/night rate for the expo.
Expanded facilities – the newly renovated Ramada is very nice and should offer a more upscale expo experience.   Here's a map showing the location of the Ramada.  It's easy to find and is essentially on the other side of I-64 from the Holiday Inn where the 2011 expo was held at.
Sanctioned pinball tournaments – Two of the expo tournaments are already sanctioned by the IFPA and are now listed on www.pinballrankings.com.
Additional arcade and console tournaments.
More cowbell.
Show Schedule and Pricing
The expo hours are much the same as they were last year.
Friday March 2, 2012  –  2pm to Midnight
Saturday March 3, 2012  – 10am to Midnight
Sunday March 4, 2012  –  10am to 4pm
Saturday provides the longest time slots, and will likely be the busiest day as well. You might find that Friday afternoon/evening or Sunday afternoon allows for more seat time with the games if you are looking to dodge some of the crowd.
Pricing is very, very fair.  Through the end of November 2011, there is a pre-registration special priced at $11 / day or $30 / weekend.  The pre-registration opened on 11/11/2011 (to commemorate Veteran's Day – Thank You Veterans for your service!!) so I highly recommend taking advantage of this offer, because any money saved is money earned in my book, and it makes you eligible for some door prizes that will be offered only to pre-registered attendees.  Pre-registration is found here.  On this same link, there is also information on bringing your own arcade games or pinball machines (for free admission) and more details on the prerequisites for such).
Vendor/Sponsor opportunities are also available as well and the info can be found here.   Note to self: come up with something to sell….
Collector / Enthusiast Meet Up Opportunities
One of the side benefits to the expo is that several collectors and retro enthusiasts will be in town, so watch this site and hopefully we'll be able to announce a small social event for collectors and aspiring collectors to get together for a meal and to talk shop.
Once again, I'll be in attendance and will provide some live-blog coverage of the show and possibly some swag to go along with it… more details on that to come, as I have to find some swag first…

All-in-all the 2012 Louisville Arcade Expo promises to be bigger and better in every way. I hope you can attend the show and will look forward to meeting new friends and seeing old ones again!