Recap–Louisville Arcade Expo 2013

With 'version 3' of the Louisville Arcade Expo now in the history books, we've all had a bit of time to get the games back home, unpack/unwind and reflect on what this years' expo was all about.
The expo is definitely 'growing up'.  There's a lot of mechanics that have to happen behind the scenes, and the way that the expo is organized and executed on is showing a lot of benefit from how everyone involved is doing such a good job on ensuring ongoing quality while increasing show content at the same time.  All that being said, this year was definitely a 'year of firsts' for our retro scene….
As mentioned before the break, it's probably easier to think about this year's expo as what was new, over-and-above last year than anything else.  I've got the list separated into what I thought were the most notable of the improvements to the expo; we'll break each of them down and dig into them in more detail as we go.
New floor layout with dedicated areas
Jersey Jack Pinball debut of 'Wizard of Oz'
Roger Sharpe panel interview
PAPA tournament leg
Expo Titles

Arcade games
Pinball
Tournament Pinball
Consoles

Everything else…
Show layout
One of the nicest parts of this years' expo was the improved organization of the show.  As trivial as the floor-plan may sound, the layout this year contributed to the fun and helped you to see 'everything' regardless of your location on the floor.  They always say that a picture is worth 1,000 words, so it's easier to show you what I'm referring to at this point…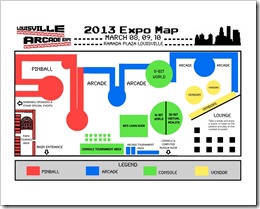 What I appreciated the most about this is that entire back wall of the convention hall was used to the fullest extent and that the game aisle did a 'snake' pattern that promoted the ability to see everything from most angles as well as provided good flow to keep people moving and walking along and did a good job of preventing everyone from crowding in a corner or being herded into a specific spot and competing for room to stand.
I also thought this layout was nice because it allowed a 'player' ring of people to stand at the machines and play and another 'spectator' ring that allowed for the walking traffic to rotate in and out… it's was like a semi-stationary ring within a constantly-rotating ring, if that makes sense.
All-in-all, I hope the LAX staff decide to stick with this layout – it works well and is about the best type of layout that one could hope for when arranging a bunch of 30-year old wooden boxes.

The 'new guy' on the block
It's always great to see just how many people 'these old games' draw into the show year-after year.  I think it's a real testament to the playability of classic arcades and pinball that so many people return to play the same games from 30+ years ago.  What's also amazing to me is the sheer amount of uptick we are are seeing in Pinball.  If the wait lines were any indication, then we're definitely seeing significant (re)interest in the game/sport/hobby and it's great for everyone concerned.
Last year, Trent Augenstein of Tilt Aumesments brought a new Stern AC/DC Pro and it was one of the show highlights.  Trent was back this year playing in the tournament and had some new machines for sale, as well.
This year, the new machine was none other than Jersey Jack Pinball's (JJP) Wizard of Oz (WOZ).  The machine was furnished by fellow-Pinsider 'doughslinger'.  He's a JJP dealer and brought a nicely modded (red EL Wire on the ramps) AC/DC Pro as well.  Both machines were book-ended with each other close to the expo entrance and the lines for both machines were ALWAYS 5+ people deep every time I walked by.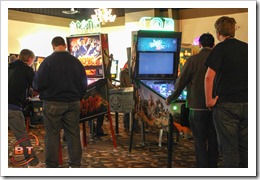 A very special guest
One of the highlights (for me, and a room full of like-minded pinball aficionados) of this years' show was the Saturday afternoon panel discussion with Roger Sharpe.
If you aren't familiar with Roger Sharpe, then check out his Pinwiki page here – http://pinball.wikia.com/wiki/Roger_Sharpe – for a quick primer on what Roger's contributions to the pinball industry over the years.  Needless to say, he was instrumental in ensuring Pinball survived as a legal industry and helped set the precedent that overturned the stance of pinball being illegal in the state of New York.  Many other states soon followed suit and Roger's performance in front of the New York city council became legendary.
Jeremy Fleitz was kind enough to allow me to sit in on the panel and help drive some of the discussion and questions to Roger, but it was more of a situation where we just primed the pump… Roger is a virtual encyclopedia of pinball knowledge, stories and insight and the time we spent in the panel discussion seemed to go by in an instant.
I think it is fair to say that all of us in the room were a captive audience, because what Roger had to say was a lot more interesting than the questions we asked him!

Check the video below for a re-cap of the discussion.  It's a long video, but well-worth the watch if you weren't able to attend the panel.  There's a significant pinball history lesson here, so grab a drink, settle in and enjoy this opportunity.
Thank you both to Roger and Jeremy for making this happen!
I've also included the audio-only stream from the panel discussion, in case anyone wants to take the interview 'on-the-go' podcast-style.
Podcast: Play in new window | Download (Duration: 2:02:35 — 140.3MB)
Subscribe: Apple Podcasts | Google Podcasts | Spotify | Amazon Music | iHeartRadio | Stitcher | Blubrry | Podchaser | Podcast Index | Deezer | RSS
A quick shout out to John Marshall and Travis Martin as the video I recorded timed out part-way through the discussion and I wound up not capturing the entire presentation.  If it weren't for those guys, I'd have no video to show you all.  This is a wake-up call that I need to revise my rig.
As the saying always goes… 'pics or it didn't happen'!!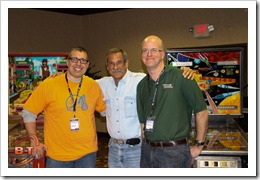 I do want to give an additional special shout-out here before we move on – Joel and Dana Reeves from The Gameroom Junkies Podcast were at the expo as well.  They did an interview with Roger once the panel discussion concluded.  Their interview with Roger is part of GRJ podcast episode 25.  Go check it out if you have some time!  Who am I kidding?? Heck, I'm one of their biggest fans!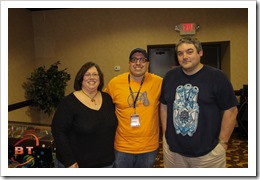 PAPA tournament leg
Every year, PAPA hosts a pinball tournament, and this year (as well as last) the expo was an official leg on the circuit.  What's nice about this is that being a tournament stop helps to draw in some of the bigger-named players in pinball and if you hang around for a bit, you'll see some of the points leaders at the show hammering on the silverball.  Part of the 'pinball alumni', if you will.
PAPA, as an organization, has been around since 1991, and with that comes a long and rich history of involvement with pinball.  Check out this page for more information about how and why PAPA does what they do – http://papa.org/about.php
If you are interested in tournament rules, details, schedule and are thinking about participating, then check this link for everything you need to know – http://papa.org/circuit/
Jeremy, Matt and Joe are to be commended for the commitment to Pinball and for making the expo an official stop on the PAPA circuit.  This is no small feat and for us locals to have this available as part of the expo is huge.
[nggtags gallery=LAX-2013-PAPATournament template=caption]

Get ranked!
Expo Titles
No coverage of the expo would be complete without discussion on the games that made it to the floor and some pictures to go along with.
One note of interest about this year is that there seemed to be a considerable amount of variety in the lineup as compared to last year. Not to say that year 1 and year 2 were lacking anything, as they were not.  This year, however, proved to be the best yet in terms of breadth of titles and seeing some games that were not present the first two years.
I think we can mainly attribute this to two specific points:
show maturity and word-of-mouth
floor layout
It just felt like there was a lot of variety, and in the past few months that have passed between the writing of this article and the expo itself, I've seen several attendees in public who have reiterated the same thing to me, so the growth is being noticed!
Arcade Games
Take a look at all of the arcade games at the show this year…
[nggtags gallery=LAX-2013-ArcadeGames template=caption]
Here's a listing of the arcade games that were at this year's show:
Pinball
Lots and lots of pinball this year (which is a great thing)… I've included shots from all the machines that were on site during loading night (a few additional machines made it in over the course of the first day, as well).
[nggtags gallery=LAX-2013-Pinballs template=caption]
Before we get into the housekeeping part of the pinball section, check out this picture of some 'silver ball aficionados' .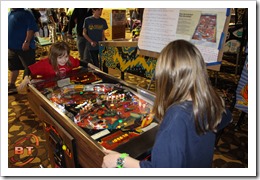 and an action video of Joust pinball:
Classic head-to-head action makes this a very desirable title.  Williams produced very few of them (402, actually) in 1983, and they are highly sought-after machines.  I watched group after group of both children and adults play this game again and again.  It was very popular, so it was really neat to see it at the show.
Here's a listing of the pinball titles that were at this year's show.  Note the high amount of title turnover from 2012… only 20 titles from 2012 returned for 2013, so well over 2/3 of the pinball was 'new' to 2013!
Tournament Pinball
Here's the listing of titles used for the PAPA tournament leg:
Consoles
Here's a listing of the consoles that were at this year's show:
| Manufacturer | Console |
| --- | --- |
| Atari | 2600 |
| Atari | 800 |
| Texas Instruments | TI99/4a |
| Emerson | Arcadia |
| Commodore | C64 |
| Atari | 5200 |
| Atari | 1200XL |
| Smith Engineering (later Milton Bradley) | Vectrex |
| Tandy | TRS-80 Color Computer 2 |
| Nintendo | Famicom |
| Apple | ][e |
| Nintendo | NES |
| Atari | 7800 |
| Sega | Master System |
| Sony | MSX |
| Apple | ][gs |
| NEC | PC Engine |
| Nintendo | Super NES (SNES) |
| NEC | TurboGrafx-16 |
| Sega | CD |
| Sega | 32x |
| Philips | CD-i |
| 3DO | Interactive Multiplayer |
| Atari | Jaguar |
| Nintendo | Virtual Boy |
| Sega | Saturn |
| Sony | Playstation |
| Nintendo | N64 |
| Sega | Dreamcast |
Everything else…
[nggtags gallery=LAX-2013-GeneralFloor template=caption]
This is the second year for the expo being in the expanded Ramada Plaza and what I thought was really nice about the setup this year was the dedicated console/classic computing room and the snack/bar area.
Having the console/classic computing area dedicated in its own room made it really easy to enjoy the sounds and experience the 'aura' of each system without being overpowered by the main floor action.  I hope this layout continues, as I think it works really well.
Being able to sit down and grab some food or beverages and still stay within the expo floor was a welcome change as the vendor tables being 'woven' around the perimeter of the floor layout was nice.  It made it pretty quick and easy to move from game playing to perusing and back and it helped to fight some boredom while waiting for a specific game to open up, etc.
If you are curious about what the action was like, take a look at this walk-through video.  It will give you a good idea of everything going on at the show this year.
All-in-all the expo was great this year.  It's been fun to cover the show the past three years and see how it has matured since debuting in 2011.  Take a few minutes and check out the recaps from 2011 and 2012 and see for yourself how the expo continues to grow!
Here's a few pictures from 'Loading Night' as well.  No coverage of the expo is complete without them!
[nggtags gallery=LAX-2013-LoadingNight template=caption]
GAME ON!